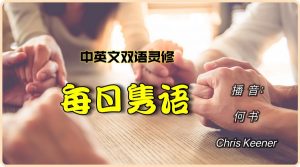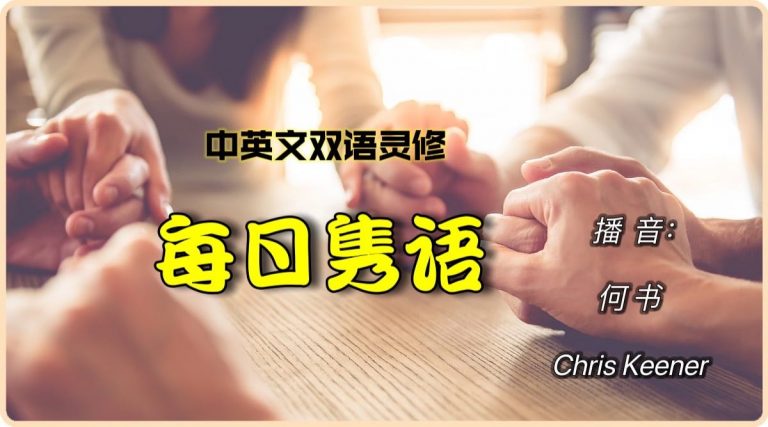 8月7日
合神心意的祷告
"我们日用的饮食,今日赐给我们。免我们的债,如同我们免了人的债。不叫我们遇见试探;救我们脱离凶恶 。 
马太福音6:11-13 
如果我们有什么需要,我们就开口求告。耶稣就是这样教导我们的。有一天,一个门徒问耶稣,我们应该怎样祷告?耶稣说,我们首先要专注于上帝是谁(我们在天上的父)?他的旨意是什么(愿你的旨意行在地上如同行在天上)?然后,再祈求我们自己所需要的。
当我们记念上帝的伟大,明白他的旨意,我们就能照他的心意来祈求。
上帝会为他的子民提供预备,所以我们完全可以向祂祈求我们一切的所需。信靠上帝是一种美德。而试图独立自主,与神隔绝,只会深陷困境。上帝满有恩慈,所以我们可以向祂祈求赦免,即便我们犯了可怕的罪。当我们的心被上帝的爱和恩典所充满时,我们也会情不自禁地把他的爱和恩典带给别人。上帝是我们的大牧者,所以我们完全可以坦诚地把我们的恐惧和试探带到祂的脚前,寻求祂的庇护和力量。
今日祷告:
亲爱的耶稣,我把自己交在你的手中,求祢喂养我、赦免我、释放我。阿们。
August 7
Pray God's Way
"Give us today the food we need, and forgive us our sins, as we have forgiven those who sin against us. And don't let us yield to temptation, but rescue us from the evil one."
MATTHEW 6:11–13
If we want something, we should simply ask for it. That's what Jesus told us to do. "How should we pray?" his disciples asked him one day. Jesus said that we are to start our focus on who God is ("Our Father…") and what God wants ("Your will be done"), and then ask away for what we need. When we remember how great God is and how great God's desire for this world is, then we are able to ask for those things that fit with his heart.
God provides for his people, so it is sensible to ask for what is needed today. Dependency on God is a beautiful characteristic. Independence and isolation from God, however, fending for ourselves, only creates a mess. God is gracious, so it is good to ask God to forgive us, even of our most terrible sin. As his heart saturates ours, we can't help but extend that same grace to
others. And God is shepherding, so it is perfectly right to honestly put our fears and temptations at his feet and ask for his sheltering strength.
Pray  for the Day:
Dear Jesus, I place myself before you today. Feed me, forgive me, free me. Amen.