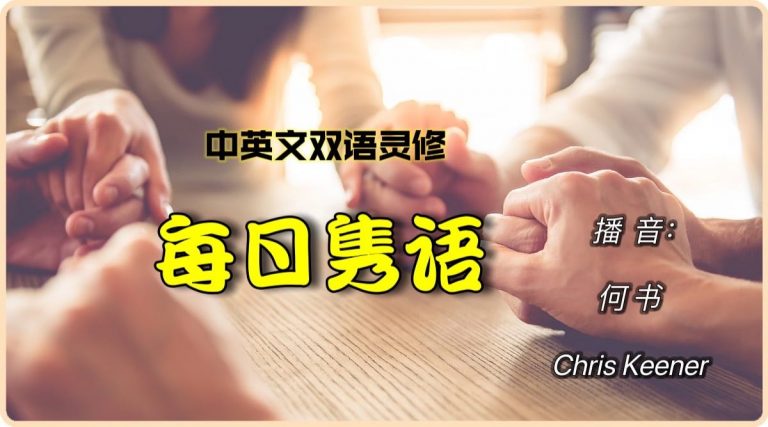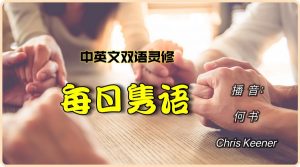 8月16日
修理头脑
弟兄们,我还有未尽的话:凡是真实的、可敬的、公义的、清洁的、可爱的、有美名的,若有什么德行,若有什么称赞,这些事你们都要思念。
腓立比书4:8
你有没有头脑断片的经历?你还能思考吗?还是你不知所措?是不是好比汽车发动不了,发出摩擦的噪音,因为电池没电了?又好比一声爆炸,让所有人都懵了?
认识耶稣的好处之一就是:他是一位伟大的机械师。祂不会偷工减料或者让你做很多没有必要的事情。如果你的思想很久没有经过调整了,或者弯曲变形了,耶稣就是那位最合适帮助你的人。他会坦诚、清楚地告诉你,哪里出了问题。然后,最关键的是,他可以修复你的思想,让它们恢复正常。
今日祷告:
亲爱的耶稣,求你使我的头脑不要堵塞和混乱,让我专注于被造以后的使命。阿们。

August 16
Fix Your Thoughts
And now, dear brothers and sisters, one final thing. Fix your thoughts on what is true, and honorable, and right, and pure, and lovely, and admirable. Think about things that are excellent and worthy of praise.
PHILIPPIANS 4:8
Are your thoughts broken? Do they work? Or do they sputter and smoke? Do they make that turning-the-key-but-the-engine-won't-startbecause- the-battery-is-dead sort of grinding noise? Or do your thoughts make that muffler-busting blast that sends people to the ground for cover?
One of the benefits of knowing Jesus is that he is a great mechanic.
He doesn't cut corners or swindle you into doing more than you actually need done. If your thoughts haven't been in for a tune-up for quite a while, or if they have gotten bent out of shape, Jesus is your guy. He is honest and tells you clearly what's wrong. Then—and this is the really good part—he can take your broken thoughts and fix them, and he can fix them on what is good.
Pray  for the Day:
Dear Jesus, don't let my mind keep clogging and seizing up. Free me to focus on what I've been created to consider. Amen.