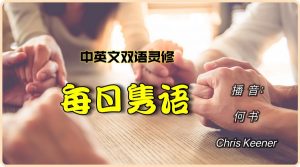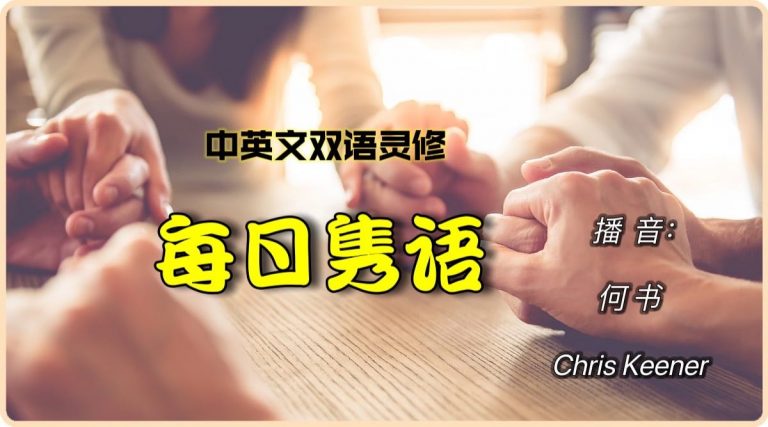 8月15日
众人知道
"当叫众人知道你们谦让的心。主已经近了。"
腓立比书4:5
当一个人做好事时,就面临一个两难的有意思的话题。圣经说,好事应该悄悄地做,免得人自夸。同时,圣经又说,做好事,也要让大家知道。不是为了夸口,乃是要大家明白,好事值得学习和鼓励。
这到底是怎么回事?到底应该选择哪一个?好行为,不错。是私下做还是公开做呢?有时候好行为是会传递的。如果别人尊敬你,了解你,知道你做事的动机,看见你服事他人,他们可能会怎么做呢?当你帮助人时,他们看在眼里,内心会受感动,也会以类似的方式作出回应。你无私的行为,也会激励他人无私地服事。
今日祷告:
亲爱的耶稣,求你鉴察我心,让我从现在就开始,效法你服事他人。阿们。
August 15
Let Them See
Let everyone see that you are considerate in all you do. Remember, the Lord is coming soon.
PHILIPPIANS 4:5
When a person does what is good, they walk an interesting line. Sometimes the Bible says that good deeds should be done anonymously. After all, the world doesn't need anymore big egos. But at other times, the Bible says that good deeds should be put on display for others to see. This is not to be done in a boasting sort of way, but certainly in a publicly evident way, where attention is drawn to the good action.
What gives? Which is it? Good deeds, yes. But private or public? Well, it seems that sometimes good deeds can be contagious. If someone who respects you, who knows your heart, and who knows your motives, sees you serving others, what might they be likely to do as a result? And when you help people, that can spark something within them to respond in a similar way. Your unselfish actions encourage others to serve unselfishly as well.
Pray  for the Day:
Dear Jesus, check my heart and kick me into gear. Let your good work in me spur me to serve others. Amen.