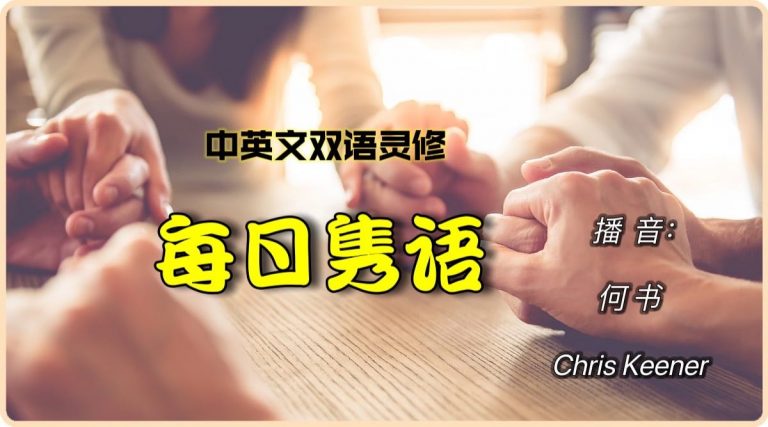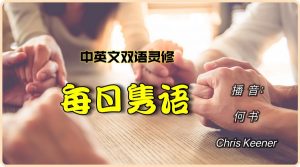 8月13日
假以时日
"我们行善,不可丧志;若不灰心,到了时候就要收成。"
加拉太书6:9
农民知道如何辛勤劳作。每天早出晚归,日复一日。无论是风和日丽还是风雨交加,无论严寒酷暑,春夏秋冬,他们都勤勤恳恳、任劳任怨地干活。很多人却不喜欢这种原始而又实际的体力活。他们更愿意自动开车去快餐店买食物:"啊,是的,我要一份快餐,愈快愈好,哦,我还要一份苹果脆片。"
在整本圣经中,我们的信仰生活,被比喻为一个缓慢而有意识的过程,从栽种到耕作,到收成。然而,我们有多少人都以一种把信仰当快餐的方式来与主同行。就是只顾眼前的事情:耶稣啊,你帮我解决这个问题吧!快点祝福我吧。我没时间再等了!噢,还有那件事也立刻帮我搞定吧!记住:上帝在我们身上是长期投资,而不是短期的。
今日祷告:
亲爱的耶稣,求你赐给我深沉的品格,让我坚定地行走这条漫长而持久的信仰之路。阿们。
August 13
Slow Work
So let's not get tired of doing what is good. At just the right time we will reap a harvest of blessing if we don't give up.
GALATIANS 6:9
The farmer knows how to work hard. Day in. Day through. Day out. Before the sun. During the sun. After the sun. Cold. Hot. Rain. Storm. Winter. Spring. Summer. Fall. It doesn't matter. The farmer works. Many people shy away from this kind of raw, real effort. They'd much rather just spontaneously drive through and buy food: "Ah, yes, I'll have a fast something now. Extra fast. Hold the slow. Oh, and I'll have an apple crisp too."
Throughout the Bible, our life of faith is compared to the slow, intentional process of planting, cultivating, and harvesting. A quick drive through fix of faith, however, is how many of us tend to treat our walk with God: Ah, yes, just fix this now, Jesus. Bless me fast. I don't really have time for this to take very long. Oh, and I'll have an apple crisp too. God is invested in us over
the long haul, not for the short term.
Pray  for the Day:
Dear Jesus, give me a depth of character committed to the long, slow work of faith. Amen.