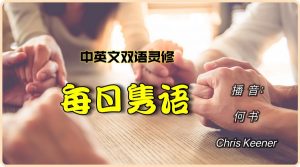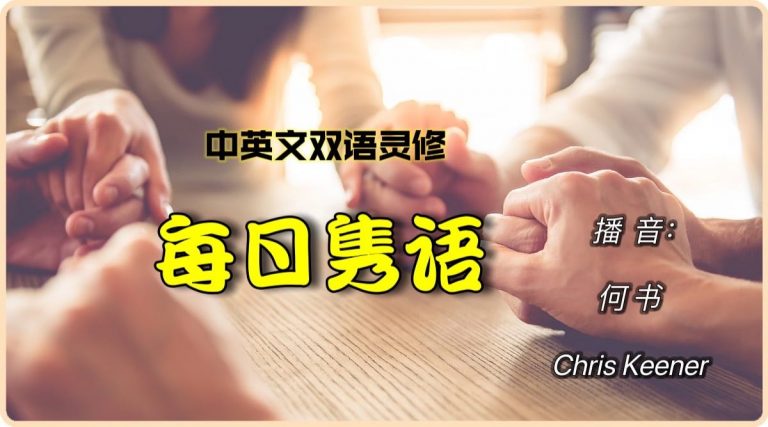 8月11日
蒙主悦纳
耶和华—我的磐石,我的救赎主啊,愿我口中的言语、心里的意念在你面前蒙悦纳。
诗篇19:14 
你所说的一切、所想的一切,是否讨主的喜悦?比如,就想想昨天吧,你的所言所想会有什么不同?如果每一句从你脑中闪过、从你口里所出的言语,都有上帝美善的引导,你跟别人的对话会有怎样的不同?这又会如何影响你的心思意念呢?
耶稣是你的磐石,而祂也是你的救赎主。如果你随波逐流,不管住自己的言语和意念,你很快就忘记了耶稣与你同在。如果你的言谈和默想中都被神的样式和祂所喜悦的事物所充满,那么今天,你就上升到一个新的高度,你会坚定地认识到上帝在你生命中的同在。
今日祷告:
亲爱的耶稣,愿我今天的言语和意念都蒙你喜悦。阿们。
August 11
Words and Thoughts
May the words of my mouth and the meditation of my heart be pleasing to you, O Lord, my rock and my redeemer.
PSALM 19:14
What if everything you ever said and everything you ever thought was pleasing to the Lord? Just think for a moment how radically different, for example, yesterday would have been. If every word that coursed through your brain and crossed over your lips was ordained by God's beauty, how would that have changed the direction of your conversations? How would that have impacted what you put your mind to?
Jesus is your rock, but he is also your redeemer. If you are like many people, in the traps of your words and thoughts, it is so easy to forget that he is there for you. Perhaps if your conversations and quiet times were to be saturated in God's patterns, in those things that please his heart, then today will bring a new level of recognition of the Lord's firm presence in your life.
Pray  for the Day:
Dear Jesus, throughout this day, may my words and my thoughts be pleasing to you. Amen.