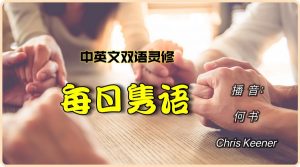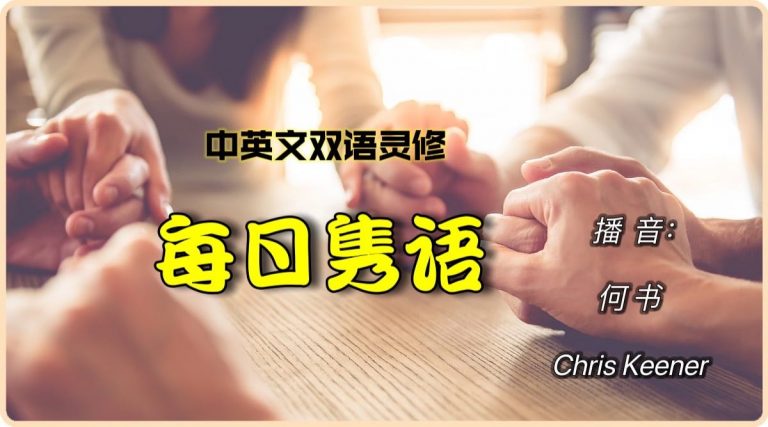 8月1日
每日更新
"所以,你们既是 神的选民,圣洁蒙爱的人,就要存 怜悯、恩慈、谦虚、温柔、忍耐的心。"
歌罗西书 3:12
这个夏天你的衣服是不是越来越难闻?有点汗臭味儿吧?所谓"汗裤"就是由此而得名的吧?为了你周围的朋友,拜托你勤洗衣服。请你每天穿上干净衣服,而不是脏兮兮、硬邦邦的衣服。你要勤换袜子,勤换内裤。
同样,圣经也劝勉你,常保更新的态度和行为,心灵不要穿着懒惰的衣裳,不要带着污秽、肮脏、破碎的思想情绪。除去你那些臭气熏天的陈旧观点,换上在耶稣基督里的新面貌。每天早晨醒来,你应该以耶稣的眼光看待你周围的世界。然后,一步一步的,你越来越具有你救主的形象,具有祂的品格和慈爱,吸引更多的人归向耶稣,他们将会感激你。
今日祷告:
亲爱的耶稣,我若有一半你的品格,就会吸引身边的每一个人。求你让我披戴基督。阿们。
August 1
Laundry
Since God chose you to be the holy people he loves, you must clothe yourselves with tenderhearted mercy, kindness, humility, gentleness, and patience.
COLOSSIANS 3:12
Are your clothes getting stinky this summer? A little bit of BO? Are you the reason that "sweat" pants got their name? For the sake of everyone around you, please keep your laundry fresh. Each day try to wear what is clean, not what is old and crusty. Your socks should not be able to stand on their own. And change that pair of underwear.
In much the same way, the Bible encourages you to keep your attitude and actions fresh. Don't put on lazy heart clothes, with stained grudges, a nasty chip on your shoulder, and frayed emotions on your sleeves. Strip off any of your stinky old perspiring perspectives and instead put on a fresh outlook, washed in Jesus Christ. When you wake up in the morning, the first thing you should do is spray yourself with the eye-awakening fabric softener of Jesus. Then, piece by piece, put on the character and love of your Savior. Those around you will thank you.
Pray  for the Day:
Dear Jesus, if I could look half as good as you, everyone around me would be changed. Clothe me in who you are today. Amen.