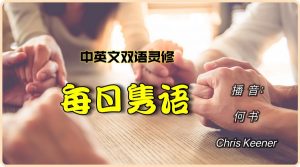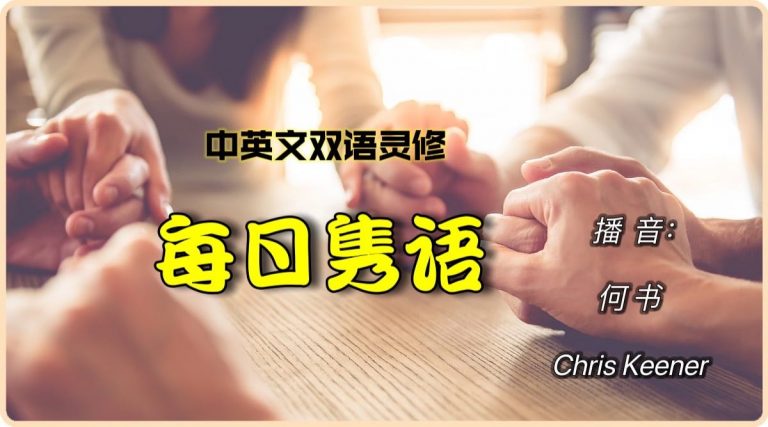 7月30日
守安息日
"当照耶和华—你神所吩咐的守安息日为圣日。"
申命记5:12
你是否知道,那一天,你本来希望休息,但是不得不加班,因为上一周拉下的工作太多?你是否知道,那一场考试,因为你学习拖拉而不得不临时抱佛脚?由于你平时浪费时间,你就不得不把所有的事情塞进最后一刻去做,把自己放在匆忙和紧张的压力之下,而你那一天本该好好休息的。你没有把一天的时间用来歇息、休整,却把它变成忙碌、辛苦的一天。
安息日的概念,出自于圣经,也就是每七天人们要暂停忙碌的生活,以便休息一下,并纪念上帝在我们生命中的作为。这里有两个要求:一是要在每一周的工作日努力工作;二是在每一周第七天与上帝一同安歇。其目的是帮助上帝的子民设定一种生活节奏,使他们在生活的各方面都保持健康。安息日,是一个让世界恢复正常的日子,是一个与上帝同享安息的日子,是一个纪念主恩的日子。
今日祷告:
耶稣,求你指教我如何有规律地生活,因为我渴望得到真正的更新。阿们。
July 30
Restoration
Observe the Sabbath day by keeping it holy, as the Lord your God has commanded you.
DEUTERONOMY 5:12
You know that day when you had hoped to rest, but instead had to catch up on all the work you neglected to do during the week? You know that test you had to cram for because you procrastinated on studying? By wasting time, you placed yourself in the stressful position of needing to stuff all of your needed work into the final moments of what should have been a
rest-filled day. But instead of a day set aside for recuperation, you spoiled it into a day of preoccupation.
The idea of Sabbath, which is taken from the Bible, is that every seventh day people would pause their hectic lives in order to rest and remember what God has done in their lives. But it required that they do a couple things. First, they actually had to live and work for God during the week and, second, they actually had to rest with God on the seventh day. The goal was to set a rhythm in life that would help keep God's people healthy in every area of life. Sabbath was to be a day to restore all that was out of whack with the world—a day to rest in relationship with God and to remember all that God had done for them.
Pray  for the Day:
Jesus, teach me to live in rhythm with you so that I can find the restoration I truly crave . Amen.