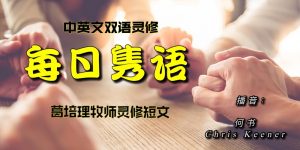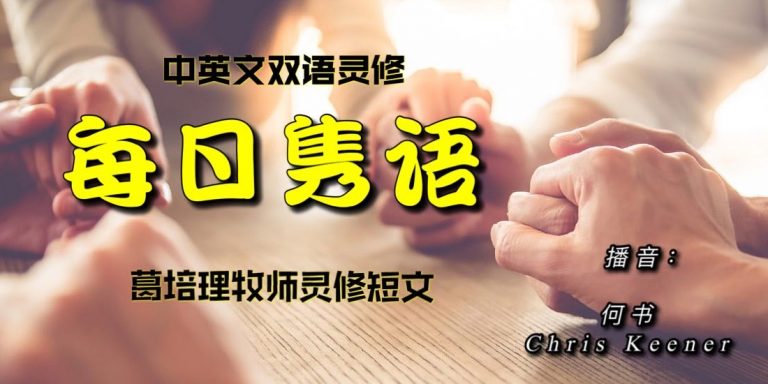 1月11日
关心他人
"论到弟兄们相爱,不用人写信给你们;因为你们自己蒙了上帝的教训,叫你们彼此相爱。"
帖撒罗尼迦前书 4:9
每天早晨我们想到的第一个人往往是我们自己,就像每天晚上睡觉前我们想到的通常也只是我们自己。我们生活的每一天里,我们最关心的,还是我们自己。你看,这已经成为一个思维定式。
你想改变世界吗?那么尽量少考虑自己,多考虑他人。想想你的朋友在考虑什么;你可以把自己放在父母的角度;通过一个受伤者的视角去理解他。
你看,耶稣要我们关心他人。他不希望我们一切以自我为中心,忽视我们的朋友和家人。他造了我们,要我们跟随他,效法他。因为祂爱他人,为他人舍命。我们也当如此。
今日祷告:
主耶稣,求你让我和你一样,关心他人的感受和需要。催促我为他人做些事情,给他们鼓励和安慰。阿们。
January 11 – Others Focused
But we don't need to write to you about the importance of loving each other, for God himself has taught you to love one another.
1 T H E S S A LO N I A N S 4 : 9
The first person on our mind in the morning is often ourselves, and the last person in our thoughts at the end of each night is often ourselves too. The primary person we're concerned about throughout the events of each day is often ourselves. Do you see a pattern here?
Do you want to change the world? Then try to think less of yourself and more about others. Consider what a friend is thinking about. Put yourself in your parents' shoes. Look at a situation through a hurting person's eyes. You see, Jesus calls us to be others focused. He doesn't want us to be so self-absorbed that we miss what is happening in the lives of our friends and family. He created us to be like him and to follow his example. Because He loves others and gave himself up for others, so should we.
Pray for the Day:
Lord Jesus, let me be more like you today by noticing the feelings and needs of others. Push me to do things for others that will give them encouragement and hope. Amen.