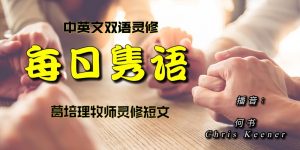 5月 31日
改变内心的需求
Need for Inner Change


因此,若有人在基督里面,他就是新造的人:旧事已过,都变成新的了。
—哥林多后书5:17

Therefore, if any man be in Christ, he is a new creature: old things are passed away; behold, all things are become new.        
—2 Corinthians 5:17
世界说我们需要做的就是变得体面、可敬和理性。的确,这也是想要成为一个伟大社会的一员所必须要做的事,但是要想成为天国的一员,我们的内心必须要有改变。
英国伦敦海德公园的一位共产主义者指者一个流浪汉说:"共产主义将为那个人穿上新衣。"紧接着一位站在旁边的基督徒说:"是的,但基督将会使他成为一个新造的人!
The world says that all we need to do is be decent, respectable, and reasonable. True, that is all one needs to do to be a member of the Great Society, but to be a member of the Kingdom of God, there must be an inner change. A Communist in Hyde Park, London, pointed to a tramp and said,  "Communism will put a new suit on that man." A Christian standing nearby said, "Yes, but Christ will put a new man in that suit!"

 今日祷告
谢谢你,主耶稣,当我接受你的那一刻,你就使我得以更新和改变。
Prayer for the day
Thank You, Lord Jesus, for the change that came deep within me when I received You.