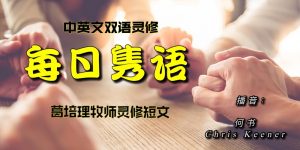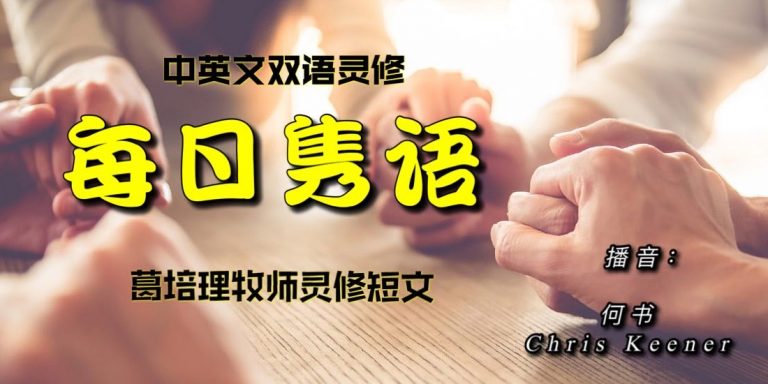 1月26日
佳美的脚
"那报佳音,传平安, 报好信,传救恩的, 对 锡安 说:你的上帝作王了! 这人的脚登山何等佳美!"
以赛亚书 52:7
脚有时候很难看。脚的囊肿、老茧、毛发、静脉、指甲、骨节,堆在一起的确不雅。如果再加上脚气或者湿气,你可能真需要极强的喷雾药剂才能度过一天了。
然而,哪怕是再臭再恶心的脚,也会有机会变得佳美。在圣经的旧约和新约,都有提到,有一种方法能让人生活中最底层的部分,也变得佳美。如果脚被用得恰当,它们看起来会很佳美,就是向这个世界传达上帝的福音。换句话说,当你听到耶稣在十字架上的救赎大工时,你用双脚四处奔波,传扬福音。这样的美事已经发生数千年。上帝期望你加入祂的报佳音团队。
今日祷告:
主耶稣,帮助我因你的福音而改变,让我不能不跟他人分享。阿们。
January 26 – Beautiful Feet
How beautiful on the mountains are the feet of the messenger who brings good news, the good news of peace and salvation, the news that the God of Israel reigns!
I S A I A H 5 2 : 7
Feet can be really ugly. Bunions and calluses, hair and veins, nails and knobs—these things can combine to make feet look pretty gross. Add athlete's foot or some dank odor to the equation, and you might need some pretty strong spray to just get through the day.
There might be a chance even for the stinkiest, nastiest feet. The Bible mentions, both in the Old Testament and in the New Testament, that there is a way to make even the lowest part of a person's life look gorgeous. Feet look good when they are used for their proper purpose, which is to carry God's good message to this world. In other words, when you hear that Jesus saves people from sin through his work on the cross, you use your feet to run around and proclaim that good news. This has happened for thousands of years, and God wants you to be a part of his news team.
Pray for the Day:
Lord Jesus, help me be so changed by your good news that I can't help but share it with others. Amen.