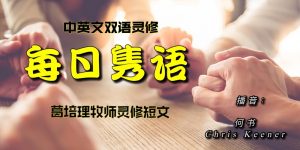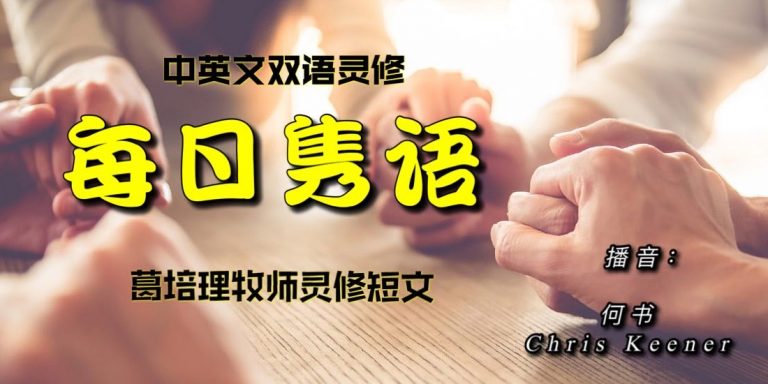 1月25日
不可虚假
"爱人不可虚假。恶,要厌恶;善,要亲近。"
罗马书 12:9
你是否打开过礼品包装盒后,发现里面的礼品其实并不是你想要的?也许是一件不好看的毛衣,或者是去年的过时货,或者是一张你不喜欢的商店的礼券。当你打开这样的礼品,你有没有假装很感谢?也许你会说:"谢谢你!你真贴心!我很喜欢!"
很多人都曾经被这种虚假的开心和感谢伤害过。耶稣希望你诚实,当然,也不要以"噢,我受不了你!"的那种方式。耶稣希望重塑你的心灵,使你可以接受他人,并且真心地告诉他们:"谢谢你在我的生命中,我很在乎你。"因为主先接受了你,并为你喜乐。
祷告:主耶稣,让我更加靠近祢,真实无伪。无论付出怎样的代价,不要让我成为虚假的人。让我像你一样真心关爱他人。阿们。
January 25 – Don't Pretend
Don't just pretend to love others. Really love them. Hate what is wrong. Hold tightly to what is good.
R OMA N S 1 2 : 9
Have you unwrapped a present only to discover you didn't actually want it? Perhaps it was a hideous sweater or last year's trendy item or a gift card to a store you didn't like. When you unwrapped those sorts of presents (and I know you have), have you pretended to be thankful? Perhaps you said, "Oh, thank you! That was so thoughtful. I love it."
Many people have been hurt by others who say they love them but who actually are pretending, wishing for someone else to love. Jesus wants you to be honest, but not in a "Oh, I can't stand you" sort of way. He wants to reshape your heart so that you can receive people and truly say to them, "I am thankful for you in my life and I want to care for you." After all, He received
you and rejoiced in the process.
Pray for the Day:
Lord Jesus, help me grow closer to you and become authentically true. As much as it might cost me, don't allow me to get away with being fake today. Help me to truly love people like you do. Amen.