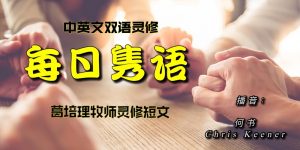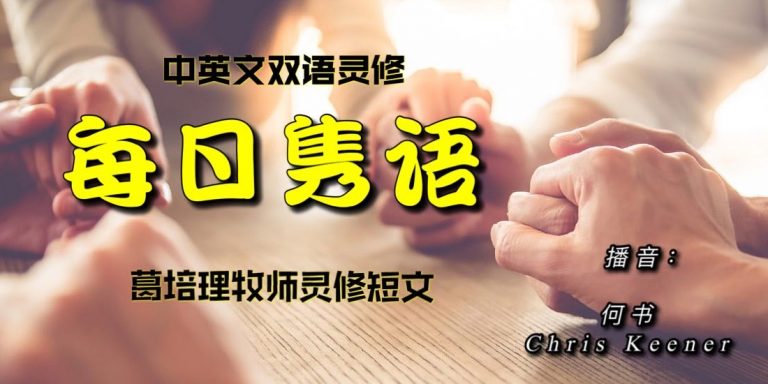 1月24日
紧急救援
"因为罪的工价乃是死;惟有上帝的恩赐,在我们的主基督耶稣里,乃是永生。"
罗马书 6:23
上帝造人的本意,是要他们与上帝亲近,与祂同行。而罪,则让人摆脱上帝之手,远离上帝。罪在我们心里导致我们偏离上帝创造人类的生活。既然上帝是所有生命的主宰,拒绝与祂同行必然失去上帝的生命。所有的工都有工价。如果所做之工是罪,其工价则不堪设想。
即便人类自甘堕落,陷入迷途,上帝仍然继续执行一项戏剧性的救援任务。祂差遣了爱子耶稣,世界上有史以来最伟大的救援专家,来世界拯救迷失的人。祂临到失丧者中间,向那些命悬一线的人张开双臂,敦促他们说:抓住我的手。
祷告:主耶稣,谢谢祢舍身上了十字架,把我从罪里拯救出来。求祢帮助我活出祢所赐的生命。
January 24 – Emergency Rescue Effort
For the wages of sin is death, but the free gift of God is eternal life through Christ Jesus our Lord.
R OMA N S 6 : 2 3
God created humanity to walk with him in a close relationship. Sin is defined as anything that lets go of his hand and steps away from him. Sin is a "work" of our heart that leads us away from the life God created humans to have. Since God is the author of all life, the consequence of the refusal to walk with God is to miss out on God's life. We all get paid for our work. If the
work is sin, however, then the paycheck is nasty.
Even after humans walked away and found themselves in serious peril, God went on a dramatic rescue mission. He sent his Son, Jesus, the greatest emergency response expert the world has ever seen, to save people who wandered away from life. He reaches out to those who got lost, extends his arms just as their lives hang in the balance, and urges them, Grab my hand!
Pray for the Day:
Lord Jesus, thank you for dying on the cross and saving me from my sin. Please help me live the life you have given me. Amen.