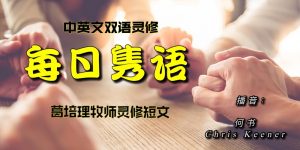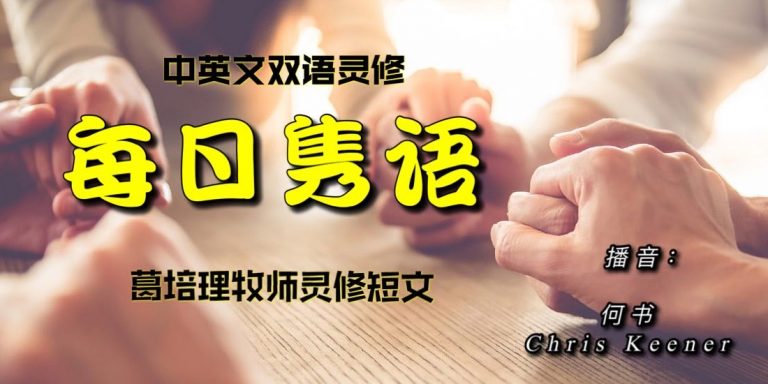 1月22日
上帝的模式
"我们遵守上帝的诫命,这就是爱他了,并且他的诫命不是难守的。"
约翰一书 5:3
很多人认为圣经中的诫命是一个消极的"不可为"清单,都是他们不应该做的。其实上帝是期望人类在这个世界活出祂的生命,实现祂起初设计的美好蓝图。就像一位好的父母一定会倾心养育孩子, 使他们获得成功的人生。上帝也指导每一个人和祂建立好的关系,和其他人建立好的关系,在这个世界有所担当。
就好像上帝看到祂的孩子们不知道如何搭建乐高积木中有史以来最酷的阿尔法火箭基地,上帝不想破坏了创造人类的整个计划,所以祂给了祂的子民一本人生指南手册,使他们可以遵循。而这些诫命对于那些悖逆上帝的人更显得严厉。
今日祷告:
主耶稣,教我喜爱祢的命令。当我跟随祢的脚步, 祢的灵就帮助我得到自由和能力, 使这个世界成为祢所创造的样子。阿们。
January 22 – God's Patterns
Loving God means keeping his commandments, and his commandments are not burdensome.
1 JOH N 5 : 3
Many people look at the commandments in the Bible as a negative list of don'ts—what they are not supposed to do. But God's patterns are more about living according to his original blueprint for life on this earth. Like a good parent trying to raise children for successful living, God's instructions provide the right framework for relationship with him, relationship with others, and responsibility on the earth.
It's as if God noticed his kids couldn't figure out how to build the coolest LEGO set ever (#483 Alpha-1 Rocket Base for those classic space LEGO fans out there!). God didn't want to derail the whole creative experiment called humanity, so he gave his children an instruction manual by which they were to live. And these commands are only tough for those who struggle with God.
Pray for the Day:
Lord Jesus, teach me to love your commands. As I follow your ways, your Spirit will help me become more free to make this world the place you created it to be. Amen.