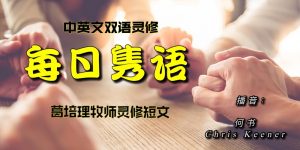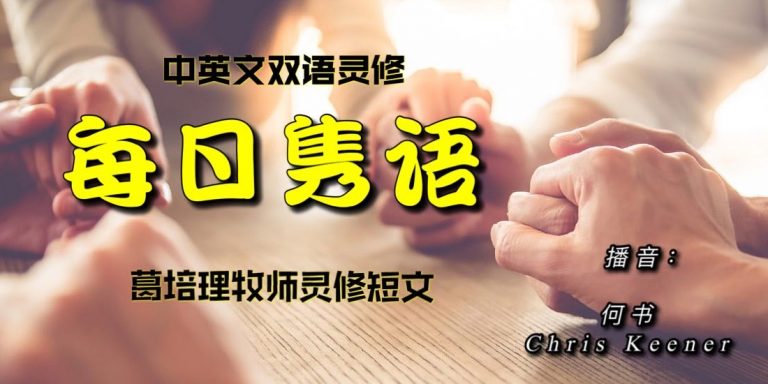 1月21日
上帝在找寻你
"上帝啊,求你鉴察我,知道我的心思, 试炼我,知道我的意念, 看在我里面有什么恶行没有, 引导我走永生的道路。"
诗篇 139:23-24
电脑上搜索栏那个可爱的小放大镜图标有着巨大的力量。在它旁边输入的任何内容都会被搜索。只要它连接到互联网,就会有成千上万的结果冒出来。这个世界的信息传输是由那个小图标背后的计算机程序所驱动的。
设想一下,如果控制这个小小放大镜搜索栏的不是一个小引擎例如谷歌,而是上帝在亲自运行。想象输入你的名字,按回车,上帝的计算程序会出现怎样的结果?有什么结果会让您担心吗?
这个搜索进程的好消息是,任何人来到耶稣面前敞开心扉,耶稣都为他欢呼。耶稣施行赦免、洁净、医治、更新的大能,让跟随他的人重新得到生命。今天,你就来到主的面前,让他洁净你的生命。
祷告:耶稣啊,你比我更了解我自己。求你鉴察,揭示我身上那些本不该出现的东西。谢谢你的赦免。求你带领我与你同行。阿们。
January 21 – God Searches You
Search me, O God, and know my heart; test me and know my anxious thoughts. Point out anything in me that offends you, and lead me along the path of everlasting life.
P S A LM 1 3 9 : 2 3 – 2 4
That cute little magnifying glass icon has tremendous power. Anything that is typed next to it is searched and, as long as it is connected to the Internet, returns millions of hits. The information transfer of the world is being driven by a little icon's algorithms.
Imagine now that the cute magnifying glass icon was ruled not by some little Internet search engine like Google, but instead was owned and operated by God. Then imagine typing your name next to it and hitting Enter. What would God's algorithms return on you? Are there any results that might worry you?
The good news about this search process is that Jesus celebrates everyone who comes to him with an open heart. He forgives and cleanses and heals and restores the life of those who seek him. Come to him today and let his cleansing take effect in your life.
Pray for the Day:
Jesus, you know me better than I know myself. Reveal those things in me that shouldn't be showing up but keep returning to the top of the list. Thank you for your forgiveness. Please lead me to walk with you through every result. Amen.