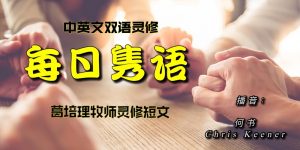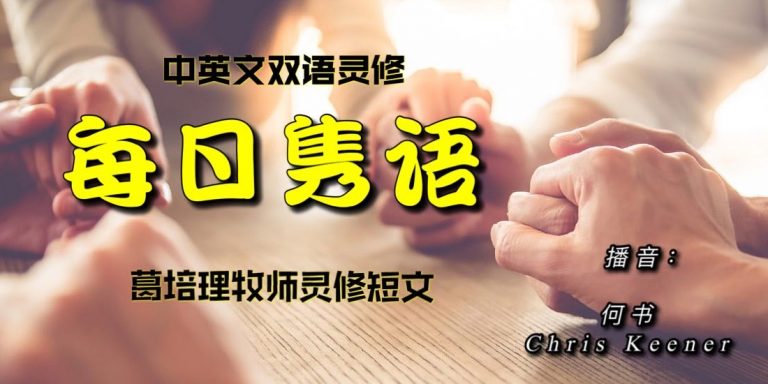 1月20日
上帝看你为宝贵
"上帝啊,你的意念向我何等宝贵! 其数何等众多! 我若数点,比海沙更多; 我睡醒的时候,仍和你同在。"
诗篇 139:17-18
耶稣说,"就是你们的头发,也都被数过了。不要惧怕,你们比许多麻雀还贵重!"(路加福音 12:7 )耶稣期望你如同他早期的门徒一样,充满力量,因为对上帝来说你是极其宝贵的。祂希望你站立得住,满怀信心,这种信心来自于你知道自己在上帝眼中如此珍贵,并且以改变生命的确信宣告上帝爱你。
换言之,上帝会珍惜并收藏你做的点点滴滴,就像父母将孩子的涂鸦贴在家里的冰箱上,不是因为你做的完美,而是因为出自于你。在你微笑、歌唱、事奉时,他为你喜悦。在你行善、效法上帝时,他为你鼓掌。在你跌倒时,他俯身安慰你,医治你的创伤,让你重新得力,继续前行。上帝从来没有停止过眷顾你。
今日祷告:
主耶稣啊,让我今天勇敢前行,我知道你的意念从不离开我。阿们。
January 20 – God Cherishes You
How precious are your thoughts about me, O God. They cannot be numbered!
I can't even count them; they outnumber the grains of sand! And when I wake up,
you are still with me!
P S A LM 1 3 9 : 1 7 – 1 8
"The very hairs on your head are all numbered," Jesus said. "So don't be afraid" (Luke 12:7). Jesus wants you, just like his first followers, to be empowered by the fact that you are incredibly valuable to God. He wants you to stand with awe-inspiring confidence—a confidence that comes from learning how precious you are in his sight—and to declare with life changing assurance that God loves you.
In other words, God puts your drawing on his fridge, not because it's perfect but because it came from you. His heart sparkles when you smile, sing, and serve. His hands clap when you create beauty and when you copy his character. His knees bend when you fall, his healing cleanses your wounds, and his power sets you on course to go and play again. He doesn't stop thinking about you—ever.
Pray for the Day:
Lord Jesus, let me be bold in my steps today, knowing that you won't stop thinking about me. Amen.