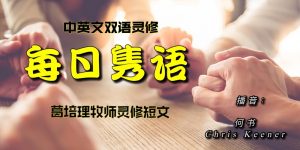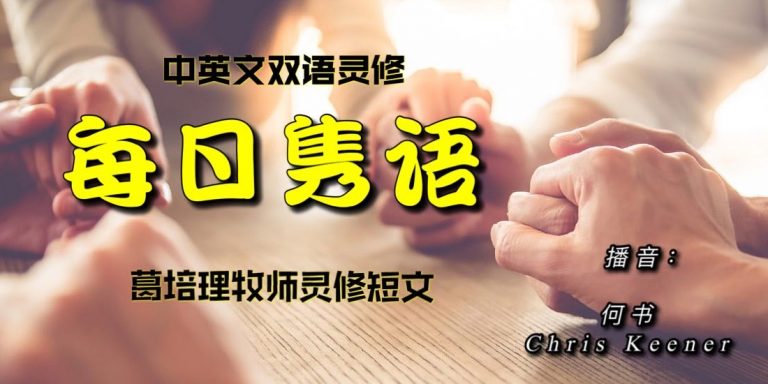 1月19日
神为你计划
"我在暗中受造,在地的深处被联络; 那时,我的形体并不向你隐藏。 我未成形的体质,你的眼早已看见了; 你所定的日子,我尚未度一日 , 你都写在你的册上了。"
诗篇 139:15-16
你不是一个错误。上帝知道你的出现。你没有让他惊奇。他早就预备好了。他在期待你的到来,他也期待你活出祂所赐给你的生命。他为你定了计划。他为你定了你将做的事,也为你定了你要接触的人。
以弗所书 2:10 说到,你和其他人一样,原是他的工作,在基督耶稣里造成的,为要行善,就是上帝所预备叫你行的。他为了造你,费尽心思。为的是你可以在这个世上与他同工。你绝对不是一个错误,而是上帝美丽的杰作。
今日祷告:
耶稣,我不是一个偶然,而是你眼中的宝贝。让这个信息指导我所做的事以及与他人的交通。阿们。
January 19 – God Planned for You
You watched me as I was being formed in utter seclusion, as I was woven together in the dark of the womb. You saw me before I was born. Every day of my life was recorded in your book. Every moment was laid out before a single day had passed.
P S A LM 1 3 9 : 1 5 – 1 6
You are not a mistake. God knew you would show up. You didn't surprise him. He was ready for you. And he was looking forward to your arrival. God also was looking forward to how you would live the life he has given to you.
He has planned your days with purpose. He has things for you to do and people for you to reach.
Ephesians 2:10 says that you, along with others who follow God, are his masterpiece, created in Christ Jesus to do the good things he planned long ago. He shaped you with incredible attention to detail and with immeasurable value so that you could join him in his good work in this world. You are not a mistake—God made you into a beautiful masterpiece.
Pray for the Day:
Jesus, I am not an accident, but a treasure in your eyes. Let that thought filter what I do and how I interact with others today. Amen.