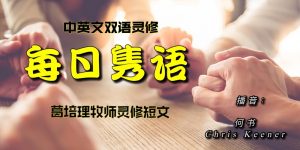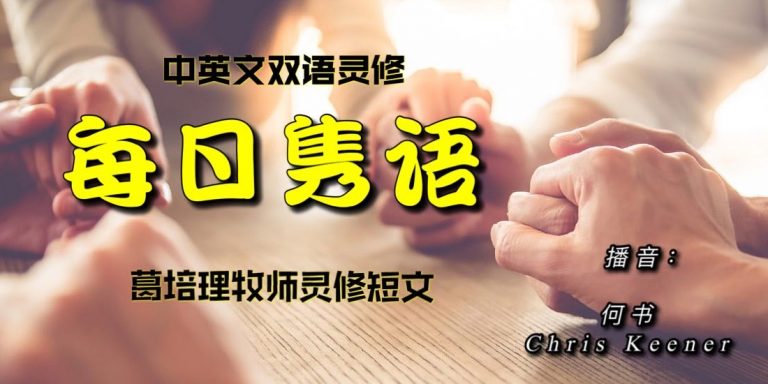 1月18日
上帝造了你
"我的肺腑是你所造的; 我在母腹中,你已覆庇我。 我要称谢你,因我受造,奇妙可畏; 你的作为奇妙,这是我心深知道的。"
诗篇 139:13-14
人们说:一针一线都是爱。实际上,被子是棉线和布匹、剪刀、针和缝纫机制成的,但它包含了真情。不如说,一个祖母为了新出生的孙子做一床被子所花的时间和心血都是爱的体现。每一针每一线,都是她对所爱之人的思虑、祷告、关怀和爱心。
同样的,上帝也是用心血和时间把你缝纫起来。
在你的母腹中,甚至在你出生的第一次呼吸之前,上帝一直在用心用手塑造你。你的每一根筋骨、每一个细胞,甚至你的心跳,都有着上帝对你精准的测量和安排。祂对你饱含深情。你身体的每一部分,都是上帝独特的设计,祂亲手将你缝制出来。在你出生之前,上帝就已经全心全意地爱你了。
今日祷告:
耶稣啊,谢谢你为我花费如此之多的心血。求你继续建造我的心与你同步,让我知道祢是何等奇妙。阿们。
January 18 – God Made You
You made all the delicate, inner parts of my body and knit me together in my mother's womb. Thank you for making me so wonderfully complex! Your workmanship is marvelous—how well I know it.
P S A LM 1 3 9 : 1 3 – 1 4
It has been said that every stitch of a quilt is made with love. Actually, a quilt is made out of thread and fabric, with scissors and needles and sewing machines. But the sentiment is still there. The time and effort that, say, a grandmother puts into making a quilt for her new grandchild is evidence of love. Every stitch is another thought, another prayer, another action of care and compassion for the one she loves.
In the same way, the Lord took the time and effort to stitch you together.
In the seclusion of your mother's womb, even before the day you gasped your first breath, the Lord's heart and hands were forming you. Every time he patiently wove a sinew or precisely measured a cell or miraculously gave beat to your heart, he  thought about you, planned for you, and couldn't help but be consumed with love for you. Every fiber of your being was uniquely patterned and intimately sewn with God's hands. From before you were born, God committed himself to you and loved you.
Pray for the Day:
Dear Jesus, thank you for investing so much in me. Keep creating my heart to
beat with yours so that I will know how marvelous you truly are. Amen.