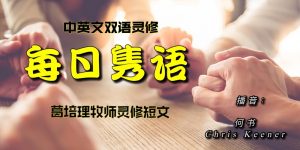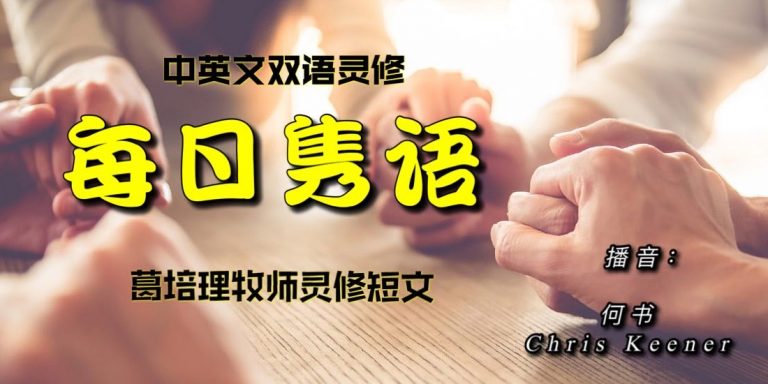 1月17日
神与你同在
"我若说:黑暗必定遮蔽我, 我周围的亮光必成为黑夜; 黑暗也不能遮蔽我,使你不见, 黑夜却如白昼发亮。 黑暗和光明, 在你看都是一样。"
诗篇 139:11-12
即使你能发明一件高压强的潜水衣,下到最遥远的海面以下数英里的最深的海底洞穴处,你还是离上帝很近,如同你睡在自己家的床上。你不会孤单。"全在"是人们用来描述一个 深奥的神学现实的词汇。如果你感到孤单,这个词会安慰你。或者,如果你想隐瞒什么,这个词也会让你不寒而栗。即便你乘坐火箭经过冥王星,抑或你逃到灵魂最黑暗的角落,你仍然会发现上帝在那里寻找你,因为他无处不在。你无处可逃。这是一个深奥而可怕的事实。
今日祷告:
主耶稣,求你让我感受你的同在,不管我在哪里或者我在做什么。阿们。
January 17 – God Is with You
I could ask the darkness to hide me and the light around me to become night—
but even in darkness I cannot hide from you. To you the night shines as bright as day. Darkness and light are the same to you.
P S A LM 1 3 9 : 1 1 – 1 2
If you could create a high-pressure diving suit and descend to the deepest underwater caves submerged several miles under the most remote surfaces of the ocean, you would still be as near to God as if you were at home asleep in your own bed. You are not alone. Omnipresent is the fancy word that smart people use to state a profound theological reality: God is everywhere. If you feel alone, maybe this comforts you. Or, if you are trying to hide something, perhaps this gives you the shivers. Even if you rode a rocket past Pluto or if you ran away to the darkest recesses of your soul—still you would find God looking for you there because he is everywhere at all times. There is no place you can go to escape his presence. This is a profound and terrifying truth.
Pray for the Day:
Lord Jesus, give me the sense to be aware of your presence today, wherever I may be and in whatever I may be doing. Amen.