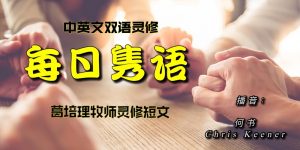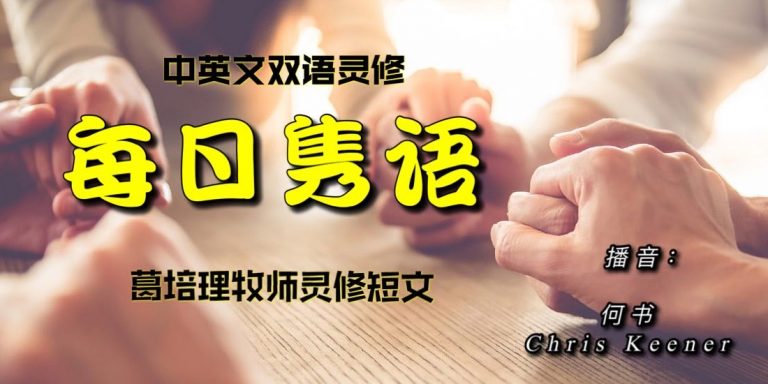 1月14日
愿我像你
"你的手制造我,建立我; 求你赐我悟性,可以学习你的命令!"
诗篇 119:73
当你跟随主耶稣,他必为你欢呼。事实上,这也是他最大的喜乐。他降世为人,你可以听到他的话语,见到他的作为。他的话语有权柄,让你发现他是一切真理的源头。他医治众人,让你看到他是一位重建和慈爱的上帝。他舍身上十字架,使你罪得赦免,让你和上帝恢复关系。他赐下圣灵,让你每日更新,以他的权柄改变世界。他呼召你跟随他,与他同行,带人归向他。
当你在生命中活出基督的时候,天国为你欢乐歌唱。这正是上帝起初的意愿:照着他自己的形象造人,让人随时亲近他。如果你真的希望让世界因着你发生永久的改变,那么从今天起,让上帝重新建造你的生命。
祷告:耶稣,求你让我在小事上跟随你,从而在大事上完成你的托付。求你改变我,让我也能为你改变世界。阿们。
January 14 – Make Me Like You
You made me; you created me. Now give me the sense to follow your commands.
P S A LM 1 1 9 : 7 3
Jesus celebrates when you follow him. In fact, it's his greatest joy. He came to this earth so that you could hear what he says and see what he does. He spoke with power so that you could see he is the source of all truth. He healed people so that you could know he is a God of restoration and love. He died on the cross so that you could have your sins forgiven and have a relationship with God. He gave you his Spirit so that you could be renewed every day and change this world with his authority. And he called you to follow in his steps, to walk in his ways, and to encourage others to become his followers too.
Heaven rejoices when you begin to look like Jesus in the way you live your life. This is God's original intent: making humans in his image, to be close to him in every moment. If you want to make a true difference in this world, one that matters forever, then today is a day to embrace God's recreating work in your own life.
Pray for the Day:
Jesus, teach me to follow you in the little things of my life so that I can be entrusted to follow you in the big things too. Change me so that I can change the world for you. Amen.