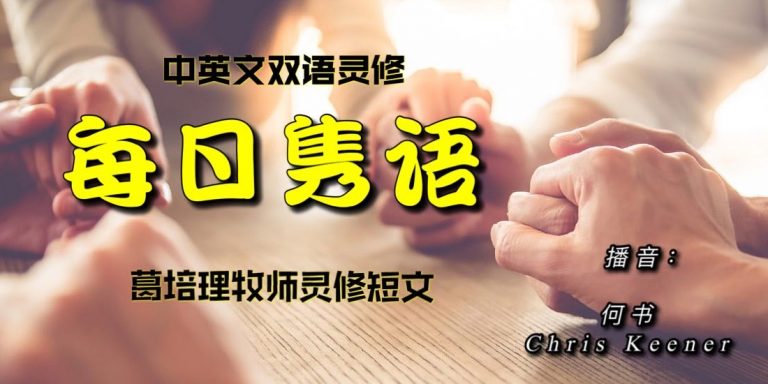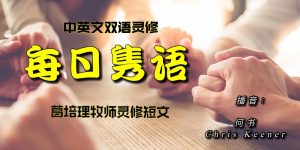 1月13日
上帝的使者
"所以,我们作基督的使者,就好像上帝借我们劝你们一般。我们替基督求你们与上帝和好。"
哥林多后书 5:20
大使,是一个国家的元首差遣到另外一个国家居住,并作为母国全权代表的首席外交官员。大使的一言一行,代表着母国元首的意愿。大使只能说母国元首要他说的,做母国元首要他做的。
现在设想一下,耶稣要你做他的大使。他要你在所住的地方代表他。你和别人交往时,耶稣要你和他们分享他的话语和见证。你是天国的子民,被上帝差遣到你的家人、朋友、同事、邻舍身边,让他们知道上帝是谁。这里有很多的责任。
可惜,很多人号称是基督的代表,却行了诸多的不义,从而给耶稣做了反见证。不要让这些反见证拦阻你做基督真正的使者。做基督纯全的代表,说基督清晰的信息。
今日祷告:
主耶稣,让我今天的所言所行,都能够真正代表你。阿们。
January 13 – Ambassador
So we are Christ's ambassadors; God is making his appeal through us. We speak for Christ when we plead, "Come back to God!"
2 CO R I N T H I A N S 5 : 2 0
An ambassador is a person who is sent by the leader of a kingdom to live in another kingdom as an official representative of the kingdom from which he or she was sent. In other words, what the ambassador speaks and does tells everyone, This is what my leader is all about. So it is important that the ambassador do and say only what their leader would want them to do and say.
Now imagine that Jesus has asked you to be his ambassador. He wants you to represent him where you live. As you interact with others, Jesus has given you his authority to share his words and customs with those with whom you live. It's as if you are a citizen of heaven and have been sent to your family, your friends, your career, and your community in order let others know what God is like. It's a lot of responsibility.
Unfortunately, throughout history, some people who have claimed to represent Jesus have done some terrible things, and, in the process, Jesus' message was misrepresented. Don't let the poor example of some people stop you from being a true ambassador for Jesus. Choose today to restore what it means to represent Jesus purely and share his message clearly.
Pray for the Day:
Lord Jesus, let me represent you today in everything I say and everything I do. Amen.