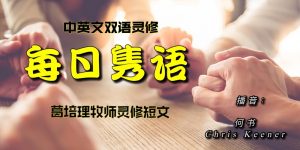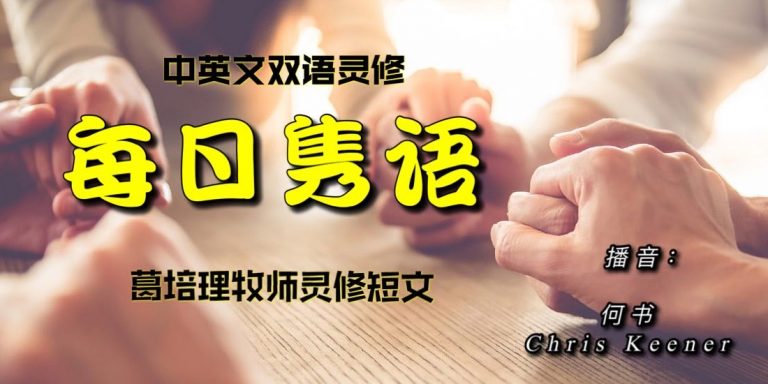 1月12日
效法上帝
"所以,你们该效法上帝,好像蒙慈爱的儿女一样。"
以弗所书 5:1
你小的时候,有没有玩过那种有趣却令人讨厌的游戏,就是别人说啥你也说啥,别人做啥你做啥。如果他们举起胳膊,你也举起胳膊;如果他们说话,你也一字不差地重复他们的话。甚至他们说:"嘿,住口!" 你也说:"嘿,住口!" 可能一时会觉得搞笑,除非你是那个被模仿的人。反正最后,你一定把别人惹毛了。
然而,模仿上帝却和那个游戏大不相同。这更像一个小男孩,看到他爸爸在镜子前剃胡须后,也会给自己脸上抹上剃须膏,然后拿着还盖着盖子的剃须刀,假模假样地上下刮几下。每一个爸爸看到这一幕,都会忍俊不禁。
我们效法上帝时,并不是像玩那个游戏那样仅仅是重复,好像一个机器人,只听指令行动。当我们想那样模仿上帝时,很快就会变得让人厌烦。相反,我们观察上帝,学习领受他所做的一切。我们关注他的行为、言语和心怀意念,然后付诸实践。我们用这样的方法来效法上帝,就会讨主喜悦,因为我们越来越有上帝的形象。
祷告:主耶稣,我的生活中很多时候都没有效法你。请祢使我的思想、言语、行为都与你一致。阿们。
January 12 – Mimic
Imitate God, therefore, in everything you do, because you are his dear children.
E P H E S I A N S 5 : 1
As a kid, did you ever play that fun but annoying game where you repeated everything someone said and did? If they moved an arm, then you would move your arm in the same way. If they spoke, you would repeat what they said verbatim. If they said, "Hey, stop it!" then you would say, "Hey, stop it!" too. It was funny (for a while, or unless you were the one being copied),
and then it eventually got on everyone's nerves.
Imitating God is a lot different than that game. It's more like the moment when a little boy, after watching his dad shaving in the mirror, puts shaving cream on his face, picks up a razor (with the cap still on, of course!), and begins to practice the strokes up and down his face. Every father who has experienced this moment can't help but smile.
When we imitate God, we aren't playing a game where we merely repeat him like a robot responding to a command. When people copy God like that it can become really annoying really quickly. Instead, as we watch God, we learn to do what he does. When we follow his actions, his words, and his heart, we tend to put his movements into practice. In this way, when we mimic God, a smile spreads across his face, for we are becoming more and more like him.
Pray for the Day:
Lord Jesus, so much of my life doesn't imitate you. Align my thoughts, my words, and my actions with yours. Amen.