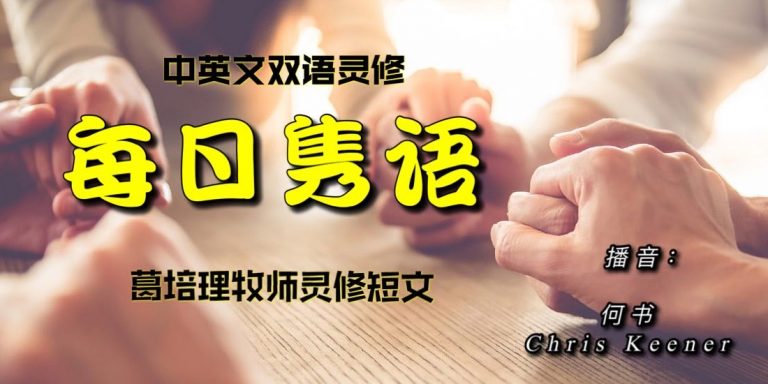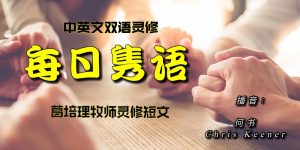 1月10日
耶稣的舍身
"你们当以基督耶稣的心为心: 他本有上帝的形象, 不以自己与上帝同等为强夺的; 反倒虚己, 取了奴仆的形象, 成为人的样式; 既有人的样子,就自己卑微, 存心顺服,以至于死, 且死在十字架上。"
腓立比书 2:5-8
说主耶稣舍弃自己是令人震惊的。但这又是事实。耶稣拥有一切。作为造物主和至高者,他的确拥有并掌管这个世界。然而,他舍弃了至高者的身份。他的舍身,为的是让我们可以得到他;他的卑微,为的是让我们可以拥抱他;他的虚己,为的是让我们可以亲近他。我们人类显然不能亲眼看见耶稣一切的荣光,他便谦卑虚己,来到我们中间,我们就可以再认识他。
耶稣自己不愿意做的事,也不会勉强我们。他却给我们做了榜样,让我们效法跟随,并在当今这个世界上彰显他的形象和作为。耶稣如此爱世人,并愿意为我们舍弃自己,从而让我们得生命。
今日祷告:
耶稣基督,谢谢你舍弃自己,为我们死在十字架上。谢谢你一直想着我们,正如祢在受难的那天也想着我们。谢谢你邀请我跟随你,以你的心为心。
January 10 – Jesus Gave Up
You must have the same attitude that Christ Jesus had. Though he was God, he did not think of equality with God as something to cling to. Instead, he gave up his divine privileges; he took the humble position of a slave and was born as a human being. When he appeared in human form, he humbled himself in obedience to God and died a criminal's death on a cross.
P H I L I P P I A N S 2 : 5 – 8
To say that Jesus gave up is alarming. But it is also true. Jesus had everything. As the Creator, He owned everything—he was in charge of everything—but then he simply gave up. He gave himself up so that we can capture him. He surrendered his greatness so that we can embrace him. He let down his power so that we can enclose around him. Because we were unable to see him in all of his brilliant glory, he chose to lay aside his power so that we can know him personally once again. Jesus doesn't ask us to do anything that he is unwilling to do himself. Rather, he asks us to follow his example, to do what he does, to be reflections of his attitude and actions on the earth today. He loves others so much that he willingly gave himself up so they—and we—could have life.
Pray for the Day:
Lord Jesus, thank you for giving yourself up on the cross. Thank you for thinking of us as you did that day. And thank you for inviting me to follow your heart. Amen.